January 23, 2017
Portland RFTC® Client Spotlight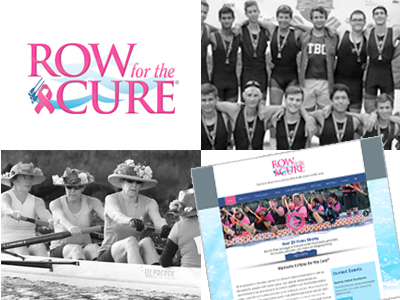 Row For The Cure® (Portland RFTC circa 1994) is a friendly, energetic non-profit who, with the support of USRowing, is the rowing and water sport community's crusade against breast cancer. DesignWise Art LOVES being on "TEAM RFTC" and, for over fifteen years, has volunteered and/or provided discounted graphic services, including company logo design, responsive website design, and collateral for fundraising events. We asked RFTC Founder, Kathy Frederick to "say a few words." 
Q: How did Row For The Cure® get its name?
KF: We wanted to identify our fundraising with Susan G. Komen® and their Race for the Cure®. They gladly gave permission to use the name because the money we raise at regattas all goes to the local affiliate of Susan G. Komen®.
Q: Any fun RFTC stories from the "early days"?
KF:  After twenty-some-odd years, we have a few Portland RFTC stories! A favorite comes from a Portland RFTC event back in 2006. To promote, we recruited men and women from former USRowing national teams to participate in an exhibition relay row in single-person shells. We had 1 man 1 woman in 3 teams. Female competitors started at the finish line and rowed to a start line. When they passed the start, their male teammate rowed to the finish, around a buoy and back to the start, where their partner then rowed like crazy to the finish line. Much hilarity and catcalls from the audience along the shore followed the teams. Winners were awarded pink boas, feather tiaras and silk roses.
Q: Is RFTC part of other local orgs?
KF: Station L Rowing Club was the original host of Row for the Cure® which has grown into a series of regattas hosted by local clubs in the United States to raise awareness of issues around breast cancer, support patients and their families and work toward ending breast cancer.
Q: Any RFTC news to share?
KF: Yes! Row for the Cure® is adding 2 new events to their calendar this year [2017]. We held an Indoor Regatta in New Jersey in February to kick off the year. And, we will host an exciting event at the end of  2017 —  World Rowing Championships on October 1st in Sarasota Florida.
Q: Other comments ?
KF: Without Amy Collen's help, our image would have remained very amateurish. A functioning and colorful website is central to maintaining our image as a dynamic, growing and successful organization. Thank you Amy! [DesignWise Art]
Thank you Kathy and thank you RFTC for all that you do.